We've teamed up with another of our newly married couples to write a blog all about their special day with us here at Victoria Warehouse. This time, a September wedding in 2019 for Fiona and Chris – with a special guest appearance from their little fur-baby, Max.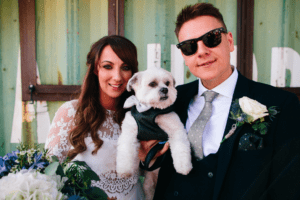 Their love for our warehouse venue began before Chris had even proposed! Fiona accompanied her best friend to The National Wedding Show back in November 2017, who was due to get married the following year. Whilst looking for inspiration for another wedding, she found our brochure and decided to grab a copy in preparation for her own. Little did Fiona know – Chris had actually already ordered the ring and was due to propose in December 2017. This is where their wedding journey officially began.
They both attended our Wedding Open Day in January 2018, where they instantly fell in love with the industrial aesthetics and unique edge of the The Bays. They were looking for a venue that had a relaxed atmosphere and reflected their personalities and passion for music. After viewing only one other venue, they knew it didn't compare and that Victoria Warehouse was the one for them.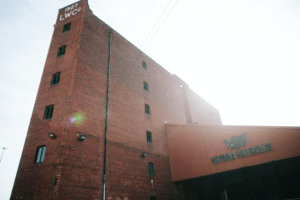 With 18 months countdown from the date they booked the wedding with us, there was plenty time to get organised and beginning the exciting planning process. Fiona and Chris say they enjoyed wedding preparations, and that it was great to just pick it up and put it down whenever they wanted to… "The devil is always in the detail, so we made sure we had plenty of time to get the details right for us".
From ceremony, to wedding breakfast, to evening reception; Fiona & Chris booked their entire day with us. Guest numbers included 86 during the day, and 150 at night – all close friends and family. Décor and themes included flowers, fairy lights and candles; all shades of navy, metallic golds and coppers. As Chris proposed to Fiona right before a Kasabian gig, they decided to factor music into elements of their day too – giving it a more personal touch. Their table numbers were band names, and they also booked a number of live acts to perform throughout the day.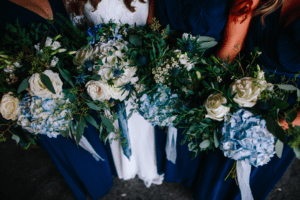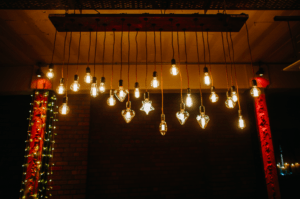 [Lighting: Peter Lockwood Events]
They worked really closely with our wedding coordinator [Ellie] to ensure all the finer details, notes and requests were outlined and clearly documented on the run up to the big day. Their wedding was then handed over to our operations team to run the entire day from start to finish… "Claire and Amy made this plan totally seamless, they are absolute professionals and had every detail covered. We didn't need to get involved in anything on the day – completely free to enjoy every moment with our friends and family… we were both a little nervous in the lead up, because there isn't a dress rehearsal; everything planned, be it big or finer details, are packaged up in boxes with just a picture in your mind. Ellie, Claire, Amy and all the staff at Victoria Warehouse really understood our vision and helped bring it to life".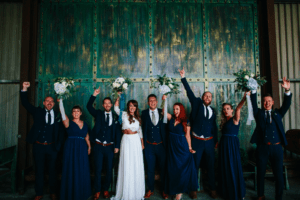 For their wedding breakfast, Fiona and Chris chose the following:
Sharing platters to start…
Pulled pork arancini and smoked hickory with BBQ sauce, paprika sweetcorn fritters with citrus crème fraiche, Morecambe crab cakes, homemade cornbread and sticky glazed pressed short rib.
Onto the main course…
Roast of Organic Pork studded with Garlic & Bay, served with Roasted Root Vegetables, Goose Fat Roast Potatoes, Parsley & Garlic Farce and Rich Gravy
Dessert to finish…
Milk Chocolate Mousse with Strawberry Compote, Sable Biscuits and Honeycomb
"The food was just amazing; we knew it was going to be after we rolled home from the menu tasting. Our guests have since commented that the food was absolutely incredible, particularly the starter –  the best they've ever eaten at a wedding!".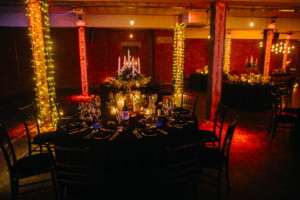 When reflecting on their wedding day, Fiona and Chris shared the following with us…
"Our wedding day was everything we could've hoped for and more. It was the perfect venue for us, how it looked and the space and freedom you have to be able to create whatever you like. Not only is the warehouse absolutely stunning, the venue cost in comparison to other venues is very modest. The staff are equally as awesome, nothing was too much trouble for anyone and we honestly couldn't have created the day without each and every one of them – especially Nina, Ellie, Claire and Amy. They all made us feel like we were the only couple getting married there, and we are 100% confident they will create this experience for all their couples".
One final word…
"It's such a cliché, but our wedding day was truly the best day of our lives. Huge, huge thank you to all at Victoria Warehouse; keep doing what you're doing. You and your awesome venue are quite literally the best".
Mr & Mrs. Sykes
Photo credit: Dan Hough Photo
---
For more information on booking our venue, visit our webpage completely dedicated to weddings at Victoria Warehouse and download our brochure.
Next Wedding Open Day: Sunday 19th January, 10am until 2pm.
Follow our weddings instagram: @weddings_vw