If you're tying the knot in 2024 and looking for a modern venue with an urban edge, a warehouse wedding could be right up your street.
Industrial-chic weddings are growing in popularity – and with good reason. A red brick backdrop is the perfect canvas for creative couples to customise and embrace their unique style.
Get personal.
One of the reasons warehouse weddings are becoming so popular is because of how versatile they are. You might want to embrace the urban charm with scaled-back decor. You could want to introduce bold contrasting colours, bright lights and textures or introduce greenery to soften the space. You might even want to go all-out with a personalised theme that represents you as a couple. However you personalise your wedding, with a warehouse backdrop the options are endless.
Prioritise the party.
According to Vogue magazine, couples are increasingly prioritising the party. We'll cheers to that! How about… your name in neon, oversized disco balls, signature cocktails, DJs, and live entertainment that get the crowd going? Having a warehouse venue means you don't have to stick to the 'typical' format of a wedding, plus the red bricks often give a different – nightclub vibe your guests will love.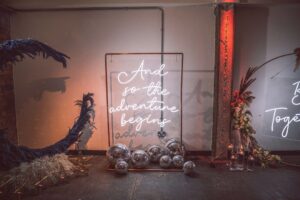 Add a little drama.
When it comes to décor, we're here for the drama. Stand-out installations are becoming more and more popular for upcoming weddings. We're talking hanging disco balls, light up letters, champagne towers, and creative lighting. These bold statements are perfect for photo opportunities against the rustic backdrop and add a whole new dimension to your big day. We've delivered some amazing concepts over the years, transforming the space from boho riad to a tropically floral haven.
Break the rules.
We hereby give you permission to completely break the rules. Embrace the versatility of a warehouse wedding by designing a setup that suits your style – whether that be long banquet tables, standing parties, or cosy lounge areas. And that extends to the food and drinks you serve up, lose the chicken dinner and offer a street food menu with tacos & tequila. How about a signature drinks station too? You decide between Jagerbombs or local gin & tons'!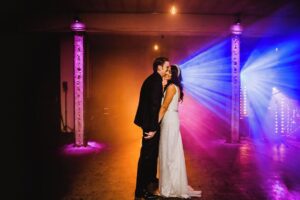 Create lasting memories.
Opting for unusual ways to create memorable experiences is a trend that's ramping up. Adding a few little surprises here and there is the perfect way to keep your guests entertained. Whether it be prosecco pong, giant games of Jenga, or a themed photo booth, these little extras make all the difference.
Planning your big day? Victoria Warehouse is the ideal choice for couples who want their wedding to be anything but ordinary.
We have various event spaces licensed for a civil ceremony, and we work closely with Trafford Council, who arrange the time slots for your big day.
Getting married abroad and fancy throwing a big bash to celebrate? We have evening only packages too, enabling you to plan the perfect party in one of Manchester's best landmarks.
No matter your wedding's theme or scale, our versatile venue can help you weave your unique story within our industrial-chic walls. Our dedicated wedding coordinators would love to show you around our unique wedding venue. Get in touch to book a tour of our event spaces.
Want some more warehouse wedding Inspiration? Head over to our weddings Instagram page @weddings_vw or check us out on Pinterest www.pinterest.co.uk/VictoriaWarehouseManchester.