It's that time of year again. And we're sat here wondering why you haven't booked your Christmas party yet!?… Come on you lot, get organised and celebrate with Victoria Warehouse this festive season.
To help you make your decision even easier, we've listed 12 reasons why partying with us is going to be the best decision you make for you and your colleagues this Christmas.
1. Easiest & cheapest 'ski trip' you'll ever go on…
Okay, okay – so there won't be any actual ski slopes; but you can certainly look and dress the part. The spaces will be designed and decorated to look like you're partying amongst the snowy mountains. The food will ensure you're given the impression that you're indulging in the local, hearty cuisine. The photo backdrops and props will guarantee that anyone who didn't attend, actually believes that you did go on an amazing ski trip! No flights, no heavy suitcases; just you and your colleagues ready to make great memories this Christmas.
2. Après Ski décor & theming
You don't have to spend ages brainstorming and trawling Google for Christmas decoration ideas – because we've done all the hard work for you. We are serving you a party on the slopes; complete with rocking DJ, props, backdrops and photo opportunities to give you the whole 'chalet party' experience. We are encouraging fancy dress for this year's festivities; however, it's not compulsory for those of you that prefer to stick to your usual wardrobe.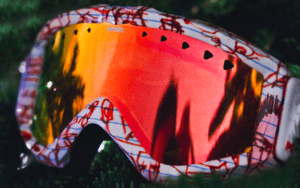 3. Personalised, private spaces
This year, we are offering private spaces only – which means you and your colleagues can completely take over your chosen space and make it all about you and your brand. We have five incredible spaces across the site that can accommodate guest numbers from 20 to 5,000.  With plenty of opportunities to paste your brand in and around our spaces, we can give you the perfect mix of décor and identification.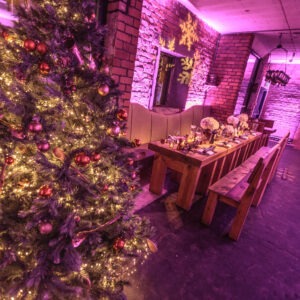 4. Two scrumptious menus
Depending on the type of vibe you're looking for, we've designed two different menus to choose from. If you're looking for a formal, take it easy, sit-down approach; we'd recommend our mouth-watering three course meal. With dishes to suit all palettes and preferences – this is sure to to be a hit with your guests. Roasted red pepper soup; seared chicken supreme and glazed apple tart are just some of the mouthwatering dishes you can expect for this menu style.
For those of you that simply want to line your stomachs so you can dance the night away – we'd recommend our Street Food for a more casual experience. With four different stations to mix and match from; you'll be spoilt for choice. Options include a cheesy raclette fondue, tasty venison burgers and sweet warm churros.
Our menus also cater for all dietary requirements including vegetarian, gluten free and vegan. Click here to view our menus in full.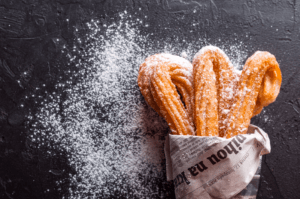 5. Delicious drinks
Every guest will receive a thirst-quenching arrival drink included as standard in your package; however, we also offer more fun and exciting extras to get you in the party mood. Beers, wine, prosecco, drinks tokens, unlimited wristbands – we've got it all. Not to mention our beer or prosecco pong tables that you can hire for the duration of your party – a bit of entertaining competition between departments is always good fun!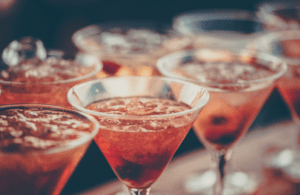 6. Added amusement
We're offering plenty of additional items to jazz up your chalet party, and these are the special touches that your guests will take full advantage of. Why not go for a photo booth so that you can capture memories and take them home with you; or even pin them to the office notice board so you can remember the best party ever! We're also offering an ice luge, complete with a bottle of your desired spirit – because what else screams a party on the slopes more than taking shots off an ice block!?
7. Midnight munchies
We all know by the end of the night we fancy a bit of fast food to soak up the alcohol… so we've designed a small menu of just that to offer your guests. From pizza, to nachos, to dirty fries – these are certain to be hot property around midnight.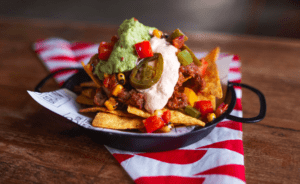 8. No scary surprises
There is nothing worse than collecting the daunting restaurant bill or bottomless bar tab at the end of the night. You want your clients or colleagues to have the night they deserve, but without the dreaded blow to the bank account. We'll simply package all your desired elements up into a price per head, organise the invoice beforehand; then all you need to do is countdown to the party date and relish in the party night. Easy-peasy.
9. Accessible & central location
We are situated on the edge of Manchester City Centre and simply minutes away from the nearest tram stop. Whether you are with us for the full evening, or fancy heading off into town afterwards – we are the perfect location for both. We are within minutes of surrounding motorways and the tramlines that run from the city centre. We also have a partnership with a local taxi firm, meaning we can order taxis for you and your colleagues at the touch of a button.
10. Raving reviews
Don't just take our word for it – we've been a hit for years! Since Christmas 2015, we've hosted brands such as BBC, Boohoo, Booking.com, Manchester United, AJ Bell and Sky. Simply download our Christmas brochure on our website to read feedback from previous years for yourselves.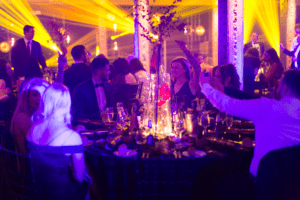 11. Surrounded by accommodation
Not only do we have 36 bedrooms onsite, but we are also within stumbling distance of a number of other hotels that collectively total over a thousand bedrooms. No need to worry about pre-booking taxis or begging your partner to drop you off – we've got you covered with a place to get ready and a bed to sleep off the hangover in the morning. What more could you want?
12. Why not do something different this year…
It's so easy to keep going back to that same hotel, same restaurant, same bar; buying the same drinks and ordering the same dish from the same old menu. You enjoy it and there are no surprises, right? BUT. What if you could have an even better night, with amazing drinks and tasty food. With our Après Ski theme and amazing urban venue, you'll be sure to wow your colleagues or clients with the party of the year.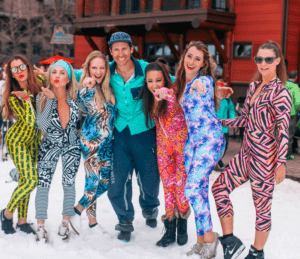 So there you go… 12 reasons to get in touch with us and begin planning your very own Après Ski bash – what more could you want for a Christmas party to remember?  For more information and details on our packages, visit our Christmas webpage to download our brochure and start your Christmas party planning today.
We can't wait to hear from you – the slopes are calling your name! Click here to enquire now.