Silver trays. Pulsing light displays. A spread of the best food you've eaten all year. Corporate dinners are worth the wait, and they will reward all the careful thought you give to them.
Themes pull it all together. Meals, outfits, music and entertainment can all create a sense of unity, helping mark each dining event out from the rest.
Here are five themes to consider for a corporate dinner that are easy and budget-friendly, but will provide a lasting impression…
The Oscars
Black tie is always a favourite, especially around New Years. Give it a spectacular twist with an Academy Awards aesthetic. Roll out the red carpet and use classic cinema wherever you can – film quotes on the serviettes, a projector looping Hollywood images, and faux Oscars for your top performers.
Famous lookalikes can pose and chat with your delegates: think Jane Fonda in a sequinned ballgown, or Arnold Schwarzenegger striding over with a canapé tray.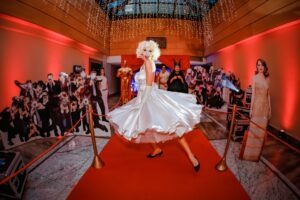 Under The Sea
Take guests to the ocean floor. Blues, greens, yellows and shifting light patterns make for a seductive palette for your corporate dinner. Play with seashell ornaments. Use bubbles or fake sand.
Then get inventive with the menu. Squid, lobster, tuna steaks, crispy seaweed or sushi makes the theme so much more of a sensory experience.
Vegas Luxury
Imagine lines of tables topped with roulette covers. Bold-patterned carpet flooring. Blackjack and poker games off to the side, in case anyone wants to cast their luck between cocktails. A Vegas-inspired dining décor is another spin on elegance; where the dress code could just as easily be black tie or more relaxed, modern dresswear. Food and drink? Think White Russians, pan-fried steak, buffets and Caesar salad.
Props are key for this theme; as you can hire items such as the famous 'Welcome to Las Vegas' sign or giant dice & casino chips. As a finishing touch, you can even design more table dressings around playing cards.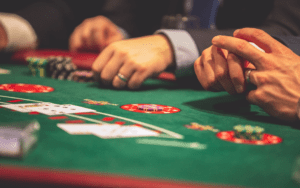 Midnight Garden
Naturalised elements are always welcome. Take trees, branches, holly and ivy into your dining space, and weave them through chair legs, across walls, or have them crown the centre stage. Hut-style enclosures make great breakout booths. Meanwhile, stick to simple materials: white and mint-green cloth with speckled leaves – and candles reaching high above the dinner table to illuminate it all.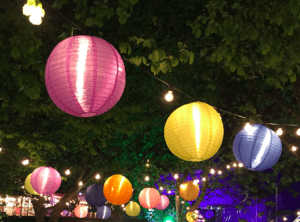 Circus Big Top
Searching for a more extravagant idea? Don't count the circus out. Although its details may seem a little wild and garish, a skilful events planner can make it work. The performer bookings are crucial here; fire eaters, stilt walkers, acrobats and more can entertain guests at every opportunity, depending on the size of the room. Snacks are unconventional too – candyfloss by the door, and popcorn in dishes. The main meal can include hotdogs, deep-fried potatoes and bright collections of vegetables.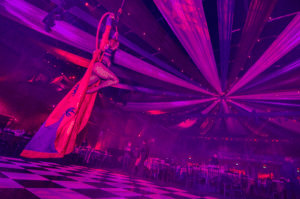 This is only the beginning. We want to follow your imagination as far as it will go. Visit our 'Awards & Dinners' page to learn more about our past events and how they can inspire you with yours.
You can also chat to a member of the Victoria Warehouse team so that we can begin planning your next corporate dinner with an imaginative twist.