We were honoured to play host venue to an incredible night for the Taylor Lynn Corporation (TLC), an event planning organisation that operates in Manchester and London. It was a one-off– a celebrity dinner and auction, with a performance by Gary Barlow, in aid of two charities.
Masterminded by TLC, we helped produce an outstanding evening…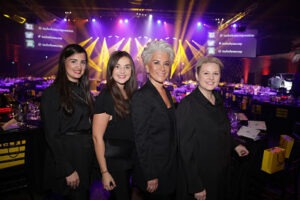 The Concept
Coming up to their 25 th year TLC stage their own unique events throughout the year. This event was proposed fundraiser for Child Bereavement UK and Red Sea Pedestrians. Their brief was to create a prestigious, welcoming feel that would draw people in; whilst asking them to generously give back to these two charities in need.
Gary Barlow and his band had signed up to play. Gary Neville was ready to host. Around them would be a special, money-can't-buy auction, full of money can't buy prizes; including a meet and greet from both Robbie Williams and James Corden. The event had to meet the golden calibre of everything TLC had arranged.
180 people were invited. They ranged from influencers to local business leaders – a perfect mix of talent in the North West. As the Victoria Warehouse team already had a strong bond with TLC, they knew they could come to us for an immaculate presentation, in a space that would suit each of the night's requirements.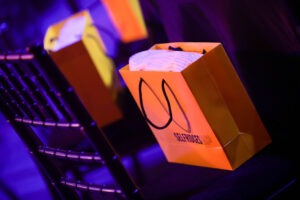 The Experience
The dinner went incredibly well – so well, in fact, that more than £400,000 was raised for both charities.
Working closely with TLC's production crew, Luminate, we crafted a large performance area on one of our biggest stages. The internationally acclaimed Swan Band, sponsored by the Crossland Family Trust were responsible for the energy that encompassed the room the moment the reveal dropped. Actor & singer Catherine Tyldesley introduced the auction with a soaring version of Bette Midler's 'Baby of Mine' from the film Beaches.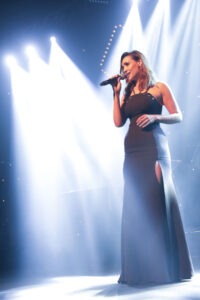 Gary Neville as host went down a storm. Between them, our waiters served a high-class menu, meeting any logistical changes that came up. Then came one of the night's main lots – a Bentley convertible, which needed its own showcase, especially since it wasn't on the market yet.
From start to finish, the guests had an amazing experience – with particular praise given to Gary Barlow's performance at the evening's end. After months of planning, we were happy to see TLC's much-anticipated charity night surpass its goals, in an environment they love returning to…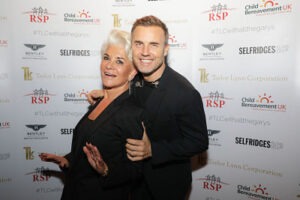 "If an events organiser is looking for a large, unique and architecturally rich venue in Manchester, I wouldn't hesitate to recommend Victoria Warehouse." – Taylor Lynn Corporation