You want your event to be unforgettable for all the right reasons, and food & drink is often a massive part of that. A chance to impress your guests with culinary options that are creative and delicious. When it comes to catering for events large and small over the past few months, our chefs have picked out some key trends that corporate and private clients have been asking for.
Whatever the brief, we support our clients by giving them something outside of the ordinary. For conferences, meetings, parties, weddings and special events, here's what's proving popular this summer…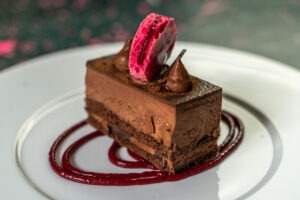 More thinking 'green'
 2023 has seen the issue of sustainability taking centre stage as the biggest topic for corporate clients. Increasingly companies are prioritising sustainability when planning their events, seeking caterers who share their eco-friendly ethos.
This shift has inspired various aspects for us here at Victoria Warehouse, from supporting local suppliers and minimising food miles to using recyclable packaging and cleaning materials. Going 'green' has also encouraged a big focus on reducing food waste. To reflect this, we have invested in innovative menu development and techniques, like the "less is more" approach, which emphasises using whole cuts for slow cooking. We also try to use two different preparation techniques to use up the whole ingredient, as well as make conscious decisions that reflect on whether adding more actually adds extra value. Gone are the days of having five or six different elements in a plated dish. 'Reduce and refine' is now a significant factor in all our menus and dishes. Using seasonal, summer ingredients is also another way to cook with sustainability in mind.
 Snacking & sharing style
Casual sharing-style menus have become the preferred choice over traditional sit-down options. For instance, sharing boards for starters, instead of more traditional, plated starters, allow guests to explore a diverse range of small pick-up items inspired by different cuisines and cultures. This type of menu particularly lends itself to summer, where light bites can be very popular.
We have embraced this trend by creating interactive and diverse boards that encourage conversation and connection. Experimenting with charcuterie-style mezze boards and blending influences from around the world has proven to be a hit, enhancing the overall atmosphere of events.
Mocktails as the mainstream
Clients are asking for more 'no or low' products. As people are becoming more aware of topics like physical health, mental health, and religious choices, the sway away from alcohol is increasing more and more.
In the UK, 59% of people are ordering non-alcoholic drinks on nights out when they are also drinking alcohol. This trend is particularly popular amongst Gen Z, who are potentially more health conscious. To reflect this, it's key that event venues have a great selection of alcohol-free drinks and mocktails. Our Virgin Mango Margarita has proved a real hit.
Branded food & drink
 To really put their stamp onto their event catering, many of our clients opt for branded food and drink options. This could include a quirky street food set up with a twist on a brand name, logo imprints on sweet treats, fancy latte art, branded miniatures or simply cocktails in a client's brand colours.
This option adds a fun twist to the event and is great for sharing across social media. By offering attendees branded food and drinks, organisers can also aim to create positive associations between the event experience and their brand. We work with clients from idea to delivery, with trials and tastings along the way to discover what will work best on the event.
Plant-based power
Whether it's due to a concern for the environment, animal welfare or health concerns, more people than ever before are turning to plant-based options where they may have previously eaten meat. A survey last year showed that one in eight people describe themselves as 'flexitarians', whilst 6% are vegetarian and 2% are vegan. As more people embrace plant-based alternatives in the pursuit of a greener, more sustainable future, it's important that event venues offer an impressive selection of plant-based dishes. Light, BBQ-type foods have been popular, such as veggie burgers, vegetable kebabs and vegan burrito bowls. Super grains salad boxes have also been in demand.
We have delivered two all-vegan weddings, with a third one coming up this year. For 2023, we introduced a new menu with a full vegetarian/vegan section. Dishes on our wedding menu include Spiced Roasted Cauliflower and Butternut Squash & Sweet Potato Wellington. We also serve vegan wines at all events.
Other popular client choices this summer include holiday-style frozen cocktails, healthy protein pancake stations and fresh juice breakfasts. It's clear that event catering in 2023 and beyond is likely to be heavily influenced by sustainability and healthier choices. There also seems to be a stronger desire for a more casual atmosphere, instead of the traditional sit-down menu. It will be interesting to see how these changes evolve into 2024, and we're definitely up for what's next.
Our teams have vast experience working across many events and we pride ourselves on providing fantastic service, creating imaginative menus to deliver unprecedented experiences for clients of all different natures. Whether it's a canapé reception, three-course dinner, street food set-up or casual grazing station, our guys serve up Manchester's finest food & drink.
Whether you're looking for a private or commercial event backdrop, let our team direct the day from beginning to end. With multiple event spaces to explore, get in touch to map out if Victoria Warehouse could be the venue for your next event.
[i] https://drinksretailingnews.co.uk/news/fullstory.php/aid/21389/The_future_of_low_no_-_insights.html#:~:text=In%20the%20UK%2C%2059%25%20of,are%20solely%20drinking%20alcoholic%20drinks.
[ii] https://yougov.co.uk/topics/society/articles-reports/2022/12/29/how-many-britons-will-attempt-vegan-diet-and-lifes