Few places have the diversity of Manchester. Not just in terms of cultural influence and European heritage, but in what you can see and do too.
From the bright lights of Deansgate to the speakeasies and art dens in the Northern Quarter, the city never stops surprising us. That's what makes it a fantastic place to explore, however long you're here for, and whoever you might be.
Our guests often ask for advice about where to go. Here are a few key spots we recommend, each showing how unique Manchester really is.
Matt & Phreds Jazz Bar
Tib Street is the strange offshoot on the edge of the Northern Quarter. Once you've sampled the nearby pubs and taverns, you're guaranteed a great evening at Matt & Phreds – which brings the best of North West jazz into their venue for chilled sets Monday to Thursday, and raucous splendour at the weekend.
Whether you're into dancing and crowd invasions, or late glasses of wine in the company of some Coltrane; Matt & Phreds is an institution you can't miss. They serve pizza too, sometimes free with a beer.
Flight Club
It's darts, but not in a damp pub as you may know it. Flight Club makes the game feel new again as you complete novelty challenges with each throw, watching rules and points fly by on an overhead screen. Plus, it looks the part, with a sleek bar at its centre.
Flight Club's becoming a favourite for fair-sized groups to drink, chat, make friends and cheer each other on as the games get harder. Take a night out to try this great concept, first conceived in London; with a joint venture open in Chicago and a Boston site launching this Autumn.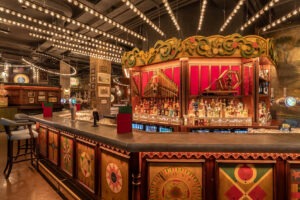 www.flightclubdarts.com/manchester
Oklahoma
Just opposite the Arndale Centre food market, you may stumble upon one of Manchester's weirdest pick-n-mix lifestyle stores – Oklahoma. It's for a certain kind of shopper: the sort who doesn't know what they want, except to be delighted and amused by everything they find.
Flamingo lights? Freida Carlo pillows? A Hipster's Guide To Training Your Pug To Bark In Five Languages? Oklahoma has it all. The staff are impeccably friendly, and can give recommendations on the who, what and why of each item. If Aladdin's cave had a makeover, it would probably look like this.
Mackie Mayor
On the corner of Eagle Street and Swan Street sits one of the city's best new food halls: Mackie Mayor, a Grade II-listed market building from the 1800s.
After substantial development in the last few years, it's now home to almost a dozen food and drink legends. You'll sample chargrilled steak, veggie ramen, tacos piled high with chilli, and octopus salad, as well as wine, cocktails, and a plethora of local ales on tap. Pre-order menus (starters, mains, sides and deserts) are available too, at £35 per person.
The Crystal Maze Live Experience
Billed as "the UK's ultimate team play" attraction, The Crystal Maze Live recreates the madness of the 90s TV show. It tests your strength, cunning and teamwork. 32 people are required for an exclusive session, but you can always mix with other players too.
Guided by a Maze Master, you'll be led through various zones (Aztec, Industrial, Medieval and Future) collecting crystals along the way. Every crystal buys more time for the final Dome challenge, where you'll catch tokens blown by super-speed fans. There's no Richard O'Brien, but there is a dose of stimulating eccentricities to lap up.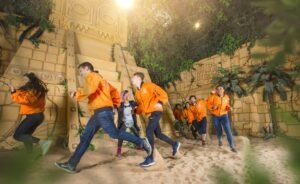 www.the-crystal-maze.com/manchester
Ziferblat
Most coffee hangouts make you feel guilty if you're there for more than an hour. Ziferblat, conversely, does the opposite. You only pay for the number of minutes you spend here; everything else, from the cakes to cappuccino syrups, is 100% free.
Spread yourself on the wing-backed armchairs. Break out the boardgames or chess set. Come to Friday film screenings, or just listen to another guest flex their piano muscles during the day. Ziferblat began in Germany but it's a worldwide concept, with 14 venues. Two of them of them are in Manchester – one on Edge Street, the other in Media City.
www.ziferblatuk.co.uk/edge-street
The John Rylands Library
Now for an open book to Manchester's history… The John Rylands Library. It's testament to the city's famously philanthropic spirit, as it was paid for by the widow of Manchester's first multi-millionaire in the late 1800s.
In 1972, it was absorbed into the University of Manchester, and came to house its Special Collections. The stately neo-Gothicism takes your breath away; visitors can walk, read and learn about the vast archives in these walls. Theology, travel writing, anthropology – there are countless subjects to immerse yourself in, before discovering the rest of the Spinningfields area.
www.library.manchester.ac.uk/rylands
---
With our starter's guide to the more unusual side of Manchester, you have the beginnings of a hit list when your next visit comes around.
Or maybe you've never been here before? There's so much to look forward to.
Whether you're coming for a conference, awards show, or merely a trip with a friend or partner, you can call Victoria Warehouse home. Pick up the phone to enquire about our hotel and event booking facilities today.