pro-manchester chose Victoria Warehouse as the venue to host their impressive Annual Celebration this summer. One of the first few clients to experience our newest event space, The Tobacco Stores, we loved being a part of this glamourous black-tie reception and dinner for the Manchester business community.
The client: pro-manchester
The event space: The Tobacco Stores
The concept:
pro-manchester is the North West's largest business development organisation. To mark a successful season and end of year, they wanted to give their members and guests the chance to celebrate, bringing just under 250 professionals together for speeches, networking, and most of all, a party.
The brief:
When looking for a venue, pro-manchester wanted a unique space that would bring in Manchester's heritage, tying in the industrial feel which demonstrates the history of business in the city, with somewhere they knew they could bring people to unwind and have fun.
The client worked with our team to maximise guest experience in the newest event space with the aim to create an air of understated elegance from start to finish, from guest arrival, a networking reception, speeches, dinner and then to the dancefloor.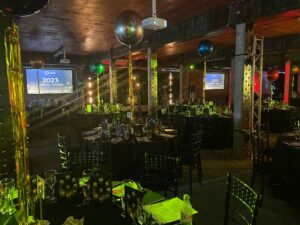 The experience:
Guests arrived to a cocktail reception (sponsored by Rockstar Spirits) and live saxophonist, Rosemary Quaye. Set with glitz & glamour, a black and silver theme, guests were then called through to the main event space for speeches and dinner. Staging, production, and lighting adding the atmosphere, managed and supplied by Vision Events.
The menu for the evening consisted of heritage tomato bruschetta, with ciabatta crostini, torched feta, basil, red onion, and balsamic dressing. This was followed by slow braised beef feather blade, creamed potatoes, shallot puree, confit carrot with a red wine sauce. Guests were then treated to a dessert of warm chocolate brownie, with chocolate glaze and Chantilly cream.
After the meal, there was a charity draw for chosen charities; Forever Manchester and Cash For Kids, and then Fat Cat Brass Band took to the stage to get the party started, with guests dancing the night away.
Why Victoria Warehouse?
pro-manchester chose to host their corporate celebration at Victoria Warehouse because it is so different from everywhere else in the city. The industrial style of the venue helped to bring new features to this annual event, traditionally held in a more formal corporate event venue.
pro-manchester were one of the first to host a corporate event in The Tobacco Stores. With a reception capacity of up to 1,000 and dinner capacity of up to 400, this recently developed event space is steeped in Manchester history with iconic views of city landmarks. Converted into two areas, the 1858sqm space is intertwined with exposed brickwork, floor-to-ceiling windows, original archways and ancient steel columns, all ideal for the theme pro-manchester were going for.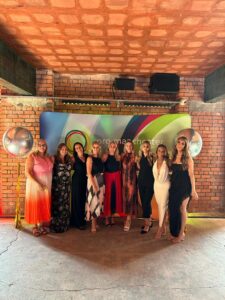 The verdict?
"Our Annual Dinner at Victoria Warehouse exceeded all expectations, leaving us thoroughly impressed. The venue's incredible space allowed us to craft a vibrant party atmosphere, paying homage to Manchester's rich history. This event holds immense significance as it brings the pro-manchester community together for a huge celebration.
Throughout the event planning and execution, Freya and the Victoria Warehouse events team were incredibly supportive. Their dedication made a significant difference, ensuring a seamless experience for us and our guests. From the venue itself to the delightful food, drinks, and impeccable service, everything was perfect."
– Nicola McCormick, Chief Operating Officer