Digital Marketing Agency connective3 recently hosted their first-ever 'Up North' marketing festival at Victoria Warehouse.
The client: connective3
The event space: The Cellars, The Archives and The Bays
The concept:
Labelled as 'not your average marketing event,' connective3's Up North event brought together 400 leading marketers, inspirational thinkers, and entrepreneurs from all over the region for a unique, full-day marketing festival with a difference.
The brief:
When looking for a venue, pro-manchester wanted a unique space that would bring in Manchester's heritage, tying in the industrial feel which demonstrates the history of business in the city, with somewhere they knew they could bring people to unwind and have fun.
The client worked with our team to maximise guest experience in the newest event space with the aim to create an air of understated elegance from start to finish, from guest arrival, a networking reception, speeches, dinner and then to the dancefloor.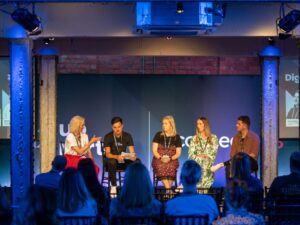 The experience:
Featuring 24 speakers across two separate stages, the event aimed to unite the digital community in the North.
As guests walked into the venue, there were plenty of opportunities for connective3 to have their event branding seen across flags, banners, and various signage points.
To kick off the conference, on arrival there were breakfast refreshments, including smoothies and pastries, for delegates to enjoy before things got underway with the presentations.
connective3 chose to use The Bays for their registration, as well as using the event space as a place for networking and merch pick-up.
Throughout the day, various talks were held by industry leaders and influencers across stages in both The Cellars and The Archives.
The talks on Stage One (The Cellars) included 'building, managing and monitoring brand perception online' by CEO and Founder of Girls in Marketing, as well as 'Behind the STREAMS: Scaling The Diary of a CEO', by Head of Content at Steven Bartlett & The Diary Of A CEO Grace Andrews, and 'How to cause chaos on social media (and get away with it)' by Creative at Surreal John Thornton.
Meanwhile, talks on Stage Two (The Archives) featured an e-commerce panel, with Claire Stanley-Manock (connective3), Lily Thistlewood (Adanola), Azeem Ahmad (ASSA ABLOY) & Chris Nightingale (ao.com). Stage Two also had an 'SEO for streaming' talk by Channel 4's Lead SEO Dan Morehead.
For lunch, the Victoria Warehouse team created a bespoke Up North lunch menu, with options such as salads and gyozas.
The event was followed by an after-party, with complimentary post-event drinks and the chance for delegates to mingle and catch up in The Bays lounge area.
Why Victoria Warehouse?
connective3 knew they wanted a venue with multiple event spaces; somewhere that 'wasn't your typical conference' venue. As a first-time event held in the north, Victoria Warehouse's northern roots perfectly leant itself to the brief.
The verdict?
"We had an incredible time at the Up North event with connective3! The lineup of speakers was absolutely mind-blowing, featuring industry giants like Google, Channel 4, Depop, and Adanola, just to name a few!" – Gorila Marketing
"The event was the best digital marketing event I've attended (potentially ever)? Gorgeous location, super well organised and an amazing lineup" – Abi Bennetts
"Wow, what an amazing event! Congrats to the whole team at connective3 for making it all possible. Here's another successful year in the making…" – Lee Murfitt, Marketing Manager at SciMed