To celebrate Manchester PRIDE weekend 2019, we teamed up with newlyweds Mr & Mr Lewis and Nelson Woodhouse-Martins; to write a special, one-off blog all about their wedding journey. They wanted to share their story with us – along with tips, suppliers and inspirations; allowing us to assist our future couples in planning their very own special day.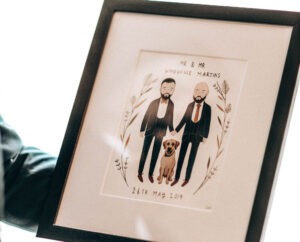 We start from the beginning (29thMay 2017), when Lewis & Nelson were travelling up to the Lake District to attend one of their friend's weddings. They stopped off for a bite to eat and a nice stroll through the fields, when Nelson got down on one knee and proposed. Despite the rain and mud, Lewis excitedly accepted and here is where their wedding planning chapter began…
When searching for a venue, Lewis and Nelson knew they wanted something unusual and far from the traditional. They wanted something that represented them, and The Bays at Victoria Warehouse was unlike any other venue space they'd visited. They'd found the one. They loved the rustic, simple and industrial nature of the space and knew they could build their dream wedding themes and inspirations around it.
As Lewis works within the events & hospitality industry, they both assumed that wedding planning would be a walk in the park. They admit they had their stressful moments and that it wasn't as easy as they expected, but overall enjoyed planning every detail together – finding it lots of fun.
They wanted a theme that suggested simple and romantic. They opted for vintage pink and gold that would compliment their other navy and grey components – such as the suits, bridesmaid dresses and table linen.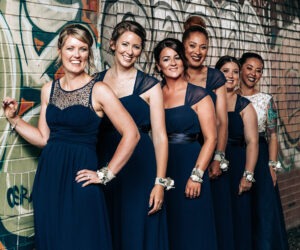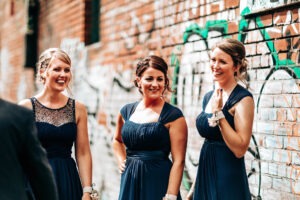 The Grooms' suits were from Debenhams and the Best Men & Ushers suits were Ben Sherman. Their lovely bridesmaids were kitted out in Boohoo.com dresses, whilst the two Maids of Honour were taken on a shopping trip to find theirs.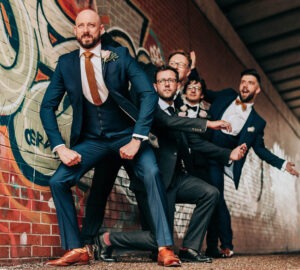 Lewis and his wedding squad used Mollie Alice for their make-up, whilst a friend did their hair; and Nelson and his wedding crew used My Bridal Artist for both hair and make-up.
Lewis had a great relationship with Springbank (Florist), as he'd worked with them for over 15 years so knew he wanted to have them involved for his own wedding. He'd also worked with Table Linen Company for many years too, and decided to upgrade and opt for their dove grey tablecloths instead of our standard white or black linen.
The cake was a tough decision for them both. They looked at lots of different suppliers but nothing ever seemed to jump out. However, as they describe it – in a "moment of madness" Lewis decided to make it himself, with big help from his Mother. They were so pleased with the way it turned out – and finished it off with two rubber ducks sitting proudly on top.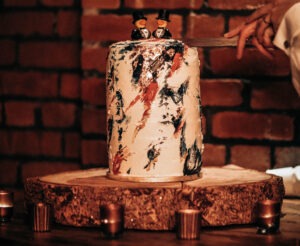 The day of the wedding arrived, and Lewis and Nelson were set to marry after many months of detailed planning and preparations. They didn't think they wanted a photographer at first, as they didn't want any fuss; but Nelson's photographer friend (Oh So Wild) offered to do it and they were so glad they did. They managed to capture moments from first thing in the morning whilst they were getting ready, through to the evening reception – without knowing the camera was there half the time. Non-intrusive, natural photos; but memories to treasure for a life time.
After sharing their vows with 94 of their close friends and family, they led into their drinks reception with glasses of fizz and bar bites; which included Hot Crackers and Paprika Nuts. They also had entertainment from String Fusion – a trio playing electric string to really set the tone for the rest of the day.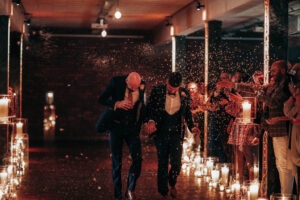 For the sit down meal, Lewis & Nelson chose our Goats Cheese Tart to start, served with vegetable crisps and a beetroot chutney. The main course was 12 hour braised beef served in red wine with dauphinoise potato, creamed kale, baby carrots and king oyster mushroom. To finish, they chose our baked Alaska, served with yuzu pearls, white chocolate and strawberry biscuit. They said the feedback from their guests was great; especially since a lot of them work in catering, so high expectations were set – and we delivered.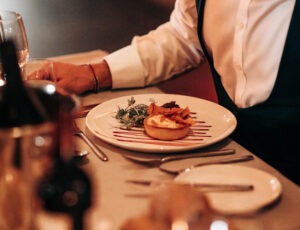 Following the meal, our Grooms opted for a cocktail station for their guests to indulge in. Negroni, Gin Martini, Vodka Martini, Mojito and clear crowd favourite, Cosmopolitan's, were on the menu. With their hunger satisfied, plenty drinks flowing and the DJ ready to go – they were fully equipped to spend the rest of the evening dancing away.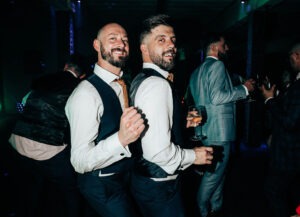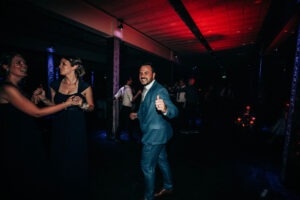 A few words from our happy couple:
"The feedback from our guests has been amazing… they loved the venue and thought the day was so magical; a huge part of that is down to Victoria Warehouse. The team bend over backwards to make sure everything goes well – from Ellie looking after our booking from start to finish, to Dave making sure we had everything we wanted, to Claire our event manager who was a star. The team were amazing!
Most of all, the space gives you the freedom to do what you want with your big day. It was the best, and we loved every minute so thank you very much!!"
Mr & Mr. Woodhouse-Martins