We love to stay ahead of the curve. That means we never rest on what we know; there's always more to discover and explore. Industrial venues like ours are an open door to any theme, and we're constantly looking beyond Manchester to draw inspiration from these other trendsetters.
Here are 10 of them… 10 venues that echo our spirit of innovation around the globe.
A giant pipe snakes around the ceiling. Polished concrete gleams below bare bulbs,
while 20 hardwood tables stay on standby to sit up to 250 guests. Brisbane has an
eminently rustic party venue and co-working warehouse.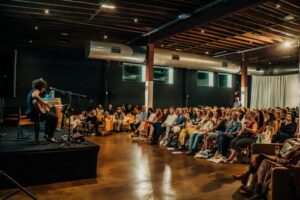 This is a little-known jewel situated just 15 minutes from Stockholm. There's space for
500 people, boasting a barn aesthetic with naked brick walls. Its Head Chef is also
Markus Aujalay – one of Sweden's top gastronomic celebrities.
You won't find the TOBACCO Theater unless you know exactly where to look off Dam
Square. Once you're in, however, it's utterly transportive: a neo-futurist auction house
that used to be one of the city's hotspots for trade. The original steel balcony acts as a
focal point, while a more intimate setting can be found in the wine cellar below.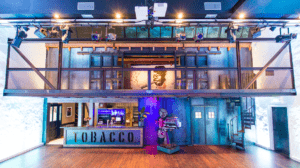 Two sisters gave this incredible venue a second life. Floristry, security, AV units and
furniture arrangements are wrapped into the hire package. The ceilings are extremely
high, so concepts can stretch without limits.
This site was a fully operational factory until the mid-1980's, but took a revamp and new
ownership in 2010 for Basilica's potential to be completely unboxed. Today, it hosts
artists, festivals, film screenings and more in the shadow of the Catskill Mountains.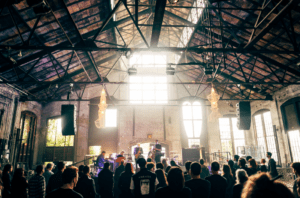 Much like Victoria Warehouse, East London's Tobacco Dock is a local icon. The huge,
sweeping event spaces include The Gallery (fit for almost 1,500 guests) and quayside
breakout areas, weaving through a combined 16,000 square metres.
A view of the French Quarter waits for rooftop visitors enraptured by Capulet's
mezzanine design and luxury vegan menu. This New Orleans venue cleaves to the city's
past while incorporating sharp, cosy furniture into its high-beamed rooms. We love the
understated quality of their stage, as well as their outdoor film screenings under string
lights.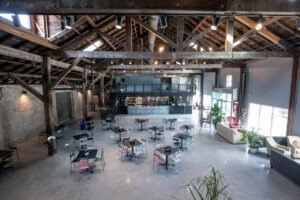 8. Van Nelle Factory, Netherlands
Van Nelle's website touts it as a "paragon of functionalism". That gives us an idea of the
pride taken in row upon row of their pristine glass walls, office units and exhibition
halls – all with intricate pipework to spare. This structure was granted World Heritage
status in 2014 and it's clear to see why.
Built in the Moderne style – an early 20th century approach that drew inspiration from
aeroplanes – The Theodore is 20,000 square feet of steel, brick and high windows. A
Sonos sound system loops around the venue, so the scene is set for great music.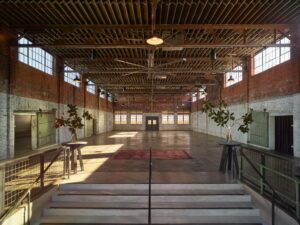 Billed as "Manhattan's most elevated lounge experience", the Rainbow Room was
unveiled by the Rockefeller family in 1934. It's gone down in history several times – for
its revolving dance floor, for Joan Crawford's appearance, and for the starry restoration
towards the end of the 1980s.
---
Our team are naturally curious about the other big players in the event sphere. Our standards are market-leading. Want to see what we can accomplish for your event in Manchester? Speak to a member of the team today. From visual elements to personal touches, we never stop taking fresh ideas further.